Premium Affordable WordPress Website Design Packages
Premium WordPress Website Design Packages at Prices Your Business Can Afford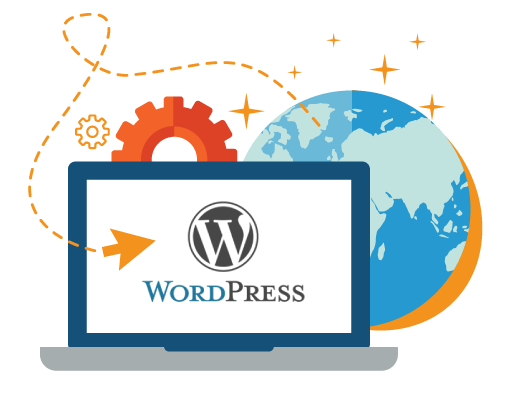 These days, you don't have to spend a fortune to get a great-looking website that will impress your customers. At Florida Web Design, we provide some of the best WordPress Web Design Services you will find.
Our expert team understands that your website is the center of your digital marketing strategy. We integrate SEO best practices into all our WordPress Design and Development Processes using the latest and most powerful plugins. This means your site will rank higher in the search engines, which makes it easier for people to find you.
Our websites are also optimized to be fully responsive, so they look great on any desktop or mobile device.
GET YOUR WEBSITE UP AND RUNNING FAST
If you're looking to create a dependable and user-friendly website, WordPress is the perfect choice. This widely adopted content management system powers around 43% of all websites. Florida Web Design is here to assist you in launching your business's website in a matter of weeks, allowing you to start generating revenue promptly. Keep reading to explore our WordPress website packages, or place your order today!
WordPress Web Design Flexibility
In the hands of a WordPress expert, you have a fully customizable web platform that is an ideal tool for creating virtually any kind of website. Showcase your business site, blog or eCommerce store the way you want with WordPress web design.
SEO-Ready WordPress Web Design
In addition to great WordPress SEO plugins, the platform is structured to make optimizing your site as easy as possible. You can easily include your keywords in your permalinks, add metadata on all posts and optimize your images with alt text — building a solid WordPress SEO foundation.
Powerful WordPress Website Plugins
WordPress is known as a simple visual editor, but the extent of its WordPress web design capabilities holds much power. With plugins, you can add custom forms, visual sliders and other eye-catching elements to your website in addition to powerful analytics and WordPress SEO tools.
Easy-to-Use Content Management System
Your site administration shouldn't have to be complicated. The core WordPress development team specifically designed the platform to cater to a non-technical audience. The WordPress CMS is so intuitive that it can make anyone feel like a WordPress web developer.
Why Hire a WordPress Web Design Company?
If you want to stand out and be noticed by your target audience, it will take a lot more than standard templates and basic site functionality. Your biggest competitor is probably working with a top WordPress website design agency — and you should be, too.
A top WordPress design agency would have years of experience that could not compare to figuring it out on your own. An experienced WordPress web designer would be able to create or redesign your website efficiently and get your site up and running as soon as possible.
Is WordPress SEO Friendly?
Ask any leading WordPress web design agency about the platform's advantages and most will quote Matt Cutts of Google saying WordPress covers 80 to 90 percent of your SEO needs. Your basic site structure is SEO-friendly and the role of our WordPress development company is to use tools to bolster your search performance.
Do You Perform WordPress Website Audits?
Our WordPress support services include regular audits to find any threats and issues that hinder your site performance. We offer free malware removal if your site ever gets compromised, but our WordPress agency conducts preventive scans regularly.
Our Latest Custom Website Design Projects
WordPress Websites Created
Join Our Happy Clients
Let us work with you and get your business
in front of your customers. 
Are you ready to start your new WordPress website?
Call The Florida Web design Company Today (941) 212-0257